We are
Agentura Brno Models
Brno Models is helping organize events with hostesses in Czechia and abroad from 2010. We aim for progressiveness and flexibility. We love our job.

Contact us: hostesses@brnomodels.cz
Our

hostesses

Some of our 250+ hostesses
Our

team

Our team is taking care of the whole event. We provide hostesses and models for events not only in Brno.
I make sure that our clients and hostesses are happy. Sometimes, I work as a hostess myself and take care of the event.

Lucie Lioliasova

Event manager

I am managing hostesses and models for several years. I mainly take care of non-Czech clients.

Sandra Golasova

Event Manager

I work as a hostess for some time and now I help with organizing events, I manage the website and take care of the administration.

Vladimira Duchonova

Event manager
Our

philosophy

We provide hostesses for a variety of events in Brno, in Czechia and even abroad more than 8 years. For those years we were gaining necessary experiences. Satisfied client and happy hostesses are our priority.
19 / 01 / 2020

Not only travelers are interested in the International Travel Fair GO in Brno. GO consists of RegionTour as well and the whole event brings travel presentations, booths of travel agencies, interesting products and much more. We cannot miss this interesting fair so our hostesses from Brno Models made a booth

08 / 12 / 2019

Christmas party of a big Czech coffee company was enlightened by Brno Models agency. The event took place in Maximus hotel in Brno where our beautiful and handsome models showed Simi Secret Lingerie. Everything worked great and everyone enjoyed the party. Are you looking for models in Czech Republic: hostesky@brnomodels.cz

17 / 10 / 2019

International Engineering Fair in Brno attracts exhibitors from around the world and that's the reason that our hostesses can't miss it. We have many years of experience with organizing hostess events for the International Engineering Fair and that's why this year was successful too and all clients were satisfied. We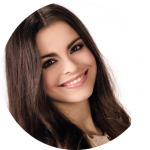 I will take care of your event - Sandra Golasova