About us
Who we are

An agency Brno Models is a young and dynamically developing company on the Czech market, with activities throughout the country and abroad. We were founded in 2010. Even in that short time, we can offer the highest quality of services and the lowest prices. Our goal is to provide maximum satisfaction to ourclients and constant development to our hostesses. With this values we stand out from many of our competitors and we offering a complex service of  Hostessing and modeling on the market.
What we are offering

We strictly pay attention to language skills, pleasant appearance and social behavior of more than 300 hostesses and promoters in our database. We know that beauty is a relative concept, and therefore we carefully select every hostess and promoter for very each performance according partners preferences.
We prefer personal contact with clients and therefore our site will not show any order form or catalog of hostesses. Staffing for your event is not buying goods and requires a personal approach. For this reason, our hostesses can't  be booked or chosen from a catalog as we used to do with electronics and other consumer goods. We will be happy to send you carefully chosen photos of available hostesses by your requirenents for your event.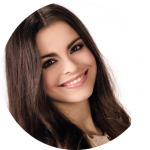 I will take care of your event - Sandra Golasova